We have designed some wonderful luxury tours that take you across Bhutan and cater to your every need.
Our Commitment to You
When you select a luxury tour with us we start by putting ourselves firmly in your shoes. Our first responsibility is to you. We ensure that we get to know your preferences so that we can cater to your individual requirements and all our efforts are directed towards ensuring you are happy with your experience.
From the moment you arrive in Bhutan we focus on ensuring that you get the very best personal service that we can give and, with our well-trained personnel and a deep knowledge of the country and its people, we work day and night to ensure that you are looked after every step of the way. With Bhutan Visit you will get every opportunity to know and love Bhutan.
Personalized Services
We concentrate on the true meaning of the word 'service' and ensure that you get the best of Bhutanese hospitality. We understand that our luxury guests require personalized attention. That is why we train our personnel to provide for your extra needs and expectations. Here, even the small details count – vehicles that pull up in the right place at the right time, umbrellas at the ready, tea services in the most unexpected but beautiful outdoor spots, a pack of necessities that may have been forgotten.
All our luxury guests are greeted by our dedicated customer service staff when you arrive and, for our VIP clients, we offer a Personal Assistant who can travel with you in addition to the guide.
Hotels
We have good working relationships with all the 5* hotels in Bhutan and we offer you a customized selection of the best rooms to suit your requirements. The network of luxury hotels does not cover the entire country but if you wish to travel to less-travelled areas we are careful to advise you on the level of services available. In this case, you can rely on our knowledge to select suitable accommodation and to inform you in detail of what you can expect.
Our Guide Services
The guides we send with our luxury guests must have a minimum of 4 years' experience after receiving their licences from the government of Bhutan. Many of them have 12 years or more experience, and all of them have excellent English and beautiful manners. We can also offer French, German, Italian, Japanese and Chinese – speaking guides.
Our Vehicles
We offer a range of vehicles depending on the size of the group but they are always either recent Toyota or Hyundai models. Our drivers all have a minimum of 5 years' experience either in tourism or, prior to joining us, were personal drivers for ministers and VIPS. They understand how to treat our guests and know the importance of their role.
Attention to Hygiene
Staying in luxury hotels you are in the best of hands, but we make it our job to ascertain that your health is protected while out and about. We carefully vet all suppliers of our picnics and tea breaks.
Our Commitment to Responsible Tourism
We are in the process of qualifying to be associated member of Travel Life, since we are committed to responsible, sustainable tourism. By studying with Travel Life to meet their requirements, all of our staff are increasing their awareness of how to provide top class tours without compromising our natural and cultural heritage.
Cultural tours and Soft Adventure
The majority of our luxury guests visit on cultural or festival tours but an increasing number of clients are in search of soft adventure and memorable encounters with the locals. We have been working on a number of products to satisfy this desire, keeping in mind the need to maintain high standards of comfort and service. Below are some of the products that we offer:
Cultural Tours
Tour in comfort throughout the country staying in luxury hotels in beautiful locations. You will visit temples, Dzongs (fortress-like buildings) and villages. On these tours, depending on your preferences you can get out and about on short walks and hikes, do some cycling or have an afternoon of rafting.
High-altitude treks
Here the facilities are comfortable rather than luxurious given the difficult terrain but our team of cooks and assistants ensure a fantastic menu served in style even at 3,000 metres. You only carry a day pack, while the main luggage is transported by horses.
Our signature Village Walks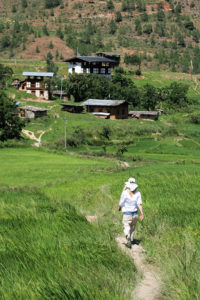 Our village walks include a visit to a local farmhouse, a chance to stop and see the people at work in their rice fields, an opportunity to pluck some fruit from the trees, spot the birds and the butterflies, take photographs of the variety of rhododendron – all depending on the season. The itineraries range from 1 hour hikes, two-hour detours through villages and farmland to 8 hour strenuous day-hikes to outlying temples or villages.
Mountain biking
We are fortunate to partner with one of the most expert mountain bike tour leaders in the country. He has competed in the 260km "Tour of the Dragon" mountain bike race seven times always coming in the top 15. He is also a qualified tour leader with years of experience leading cultural tours as well as cycling tours. For these tours we use 'Trek' cycles and provide a full back-up service, with a Hilux and maintenance personnel following the group. We offer full cycling tours of 10 – 12 days or tours that include a few days of cycling. Please note that these tours are more on the road than through the forest due to the nature of the terrain.
Day or half-day activities portfolio
Enjoy horse-riding in Paro and Bumthang, archery lessons, Bhutanese cookery demonstrations, weaving demonstrations and river-rafting.
Educational Talks
Choose from a series of optional personalized lectures by experts in the history of Bhutan, Buddhism, Gross National Happiness (a unique, Bhutanese concept) and Traditional Medicine.